AVSC offers a wide range of Snowboard Programs. We offer coaching support in multiple disciplines such as Halfpipe, Slope Style, Big Air, Slalom, Giant Slalom, Big Mountain and Snowboard Cross. Our younger athletes are encouraged to explore all disciplines while focusing on having fun and loving the sport. We encourage them to be well-rounded riders while building foundational skill sets. Our older athletes have the ability and freedom to choose their favorite discipline(s) and become a master of their craft. Whether your goal is an X Games podium and going to the Olympics, like AVSC alumni Chris Corning and Jake Canter, or you want to progress and learn new tricks in the safest ways possible, we have the program to fit your needs. Our staff is very knowledgeable and bring a variety of skills to the program.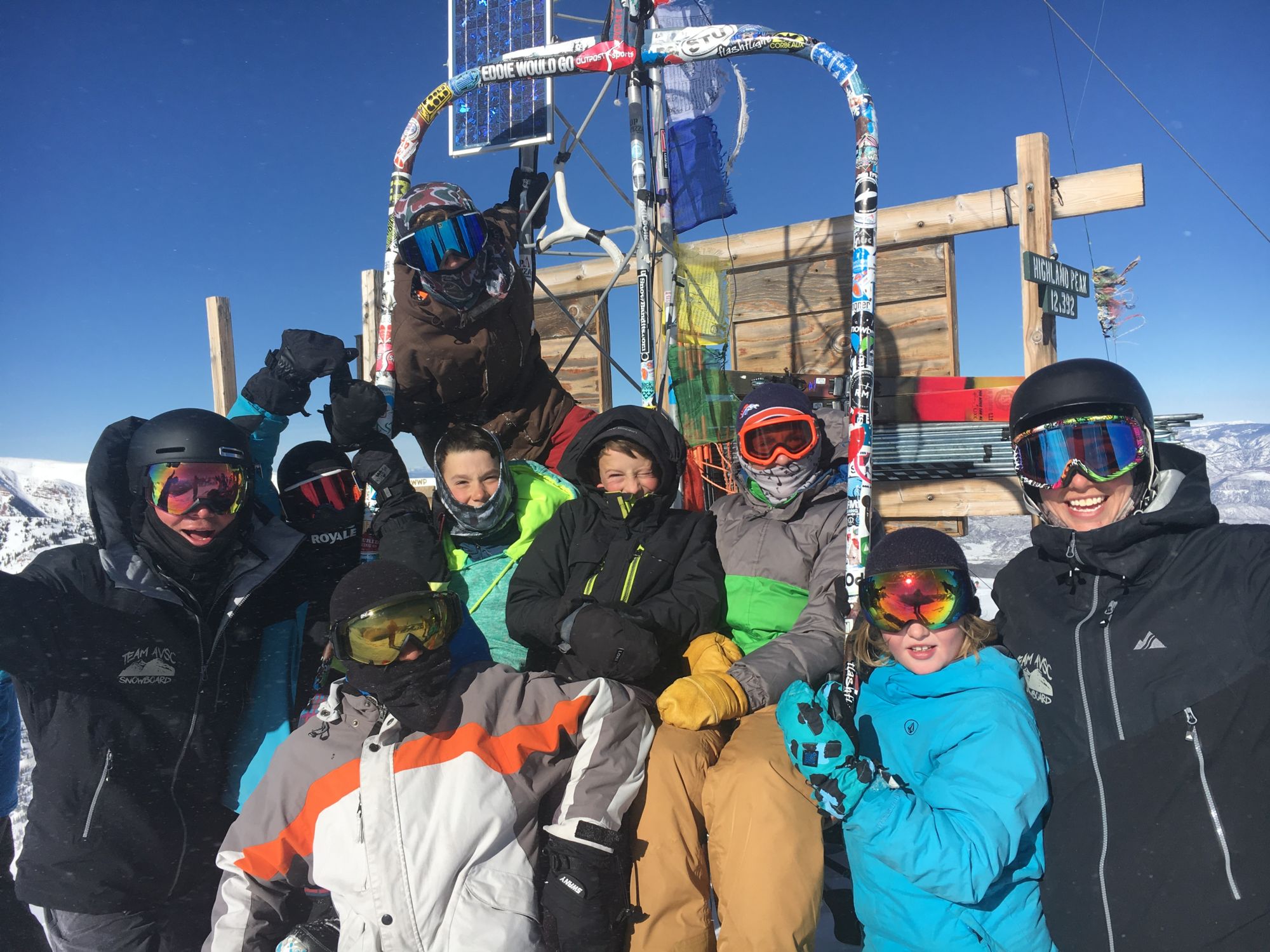 HOW TO REGISTER
Registration for 2023-24 Programs is open!

For additional information on registration, dates and deadlines, forms and more click here. Once you've selected a program, click here to enter our Campminder system and register. If you have used Campminder before with us, please use the same login and do not create a duplicate!

Scholarships are available for all team programs based on need. Click here to access the scholarship form. Athletes applying for a scholarship must submit their registration and scholarship application by the early registration deadline (August 1st, 2023). A $100 - $600 deposit (dependent on program) is required to apply for a scholarship. Scholarships are only available to residents of the Roaring Fork Valley or Western Garfield County. Post-graduate athletes are not eligible for scholarships.
---
COMPETITIVE PROGRAMS
Our Competitive Programs are designed for competitive athletes. Snowboarding is their passion. They want the highest level of opportunity – working with the most experienced coaches, having the most hands-on equipment recommendations, travelling to the highest level of competition for their age group. They want to give snowboarding their all; they are fully committed and excited to invest a significant amount of time and energy in pursuit of becoming the very best snowboarder that they can be!
U10-14 COMP TEAM (BIRTH YEAR 2010 - 2016)
Athletes will train from November 25th– April 14th, starting with some dryland but primarily focused on on-snow training.
This group will snowboard for 60+ days, meeting on Wednesday afternoons and weekends. Holiday + Spring Break Camp included.
While these athletes will be exposed to number of opportunities to compete in local competitions, they will also have the opportunity to participate in some travel competitions (families coordinate transportation and housing).
Program Fee: $4,965. Additional Parent Work Deposit $450
COMP TEAM (AGE 13+; BIRTH YEAR 2014+)
Athletes will train across all disciplines, and work towards discipline specialization. Park & Pipe or Snowboard Cross (SBX).
Athletes will participate in year-round training, including dryland 4x/week in the offseason, and will be on snow whenever possible
This group will snowboard for 100+ days, training throughout the week.
Athletes will have the opportunity to participate in travel competitions with team support (AVSC coordinates transportation and housing; athletes travel as a team at this age).
Program Fee: $7,065. Additional Parent Work Deposit $600

DEVELOPMENT PROGRAMS
Our Development Programs are designed for athletes who are focused on progressing in their sport, getting outside, and having fun. They are enthusiastic snowboarders who want to develop freestyle and all-mountain skills while enjoying the camaraderie of a team. While they're passionate snowboarders, they want to enjoy summers and holiday breaks free of training (dryland and Holiday Camps are not included in program fees for Development Programs). Looking for a program with a higher level of commitment? Check out our Competitive Programs.
PRE-DEVELOPMENT TEAM (AGE 7-8; BIRTH YEAR 2015-2016)
This program is a bridge between our Aspen Supports Kids Program and our Snowboard programs. It teaches mountain safety, all mountain skills, and basic snowboarding fundamentals. This is a great option for young snowboarders who want a taste of AVSC's Snowboard Programs. Towards the end of the season, athletes will have the opportunity to experience the next level in our programming.
This group will snowboard for 20 days, meeting on weekends from December 9th – March 10th . Athletes should be a level 7 or higher.
Program Fee: $2,825. Additional Parent Work Deposit $150
U10-12 DEVELOPMENT TEAM (AGE 9-12; BIRTH YEAR 2012-2014)
Athletes will snowboard for 32 days, meeting on weekends from December 9th – March 24th, plus December 29th and 31st.
Program Fee: $3,595. Additional Parent Work Deposit $330