Registration for the 2021-2022 season is now closed. See you next year!!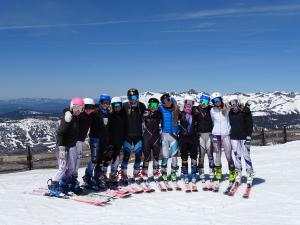 AVSC Alpine has a broad range of programs from learn-to-race to highly-competitive programs. Regardless of commitment level, we engage and challenge our athletes. Our goals are to push technical and tactical abilities and to teach the values of a team while providing an enjoyable experience.
Athletes must be able to ride lifts alone and be responsible for meeting coaches independently at designated time.
Program fees do not include season passes, competition travel costs, or cost for USSA and FIS registration.
For more information, contact Johno McBride at 970-205-5160 or
jmcbride@teamavsc.org
.
---
HOW TO REGISTER
Registration for the 2021-2022 opened on July 1st. Once you've selected a program, click here to enter our Campminder system and register. If you have used Campminder before with us, please use the same login and do not create a duplicate!

Scholarships are available for all team programs based on need. Click here to access the scholarship form. Athletes applying for a scholarship must submit their registration and scholarship application by the early registration deadline (August 31st, 2021). A $100 - $600 deposit (dependent on program) is required to apply for a scholarship. Scholarships are only available to residents of the Roaring Fork Valley or Western Garfield County. Post-graduate athletes are not eligible for scholarships.
Not sure what program is right for your athlete? Contact Program Director Johno McBride at jmcbride@teamavsc.org.
---
ALPINE RACE PROGRAMS
Our race programs are designed for competitive athletes. Ski racing is their passion. They want the highest level of opportunity – working with the most experienced coaches, having the most hands-on equipment recommendations, travelling to the highest level of competition for their age group. They want to give skiing their all; they are fully committed and excited to invest a significant amount of time and energy year round in the pursuit to becoming the very best alpine skier that they can be! Looking for a lower level of commitment? Check out our development programs below!
U10 RACE TEAM (AGE 7-9; BIRTH YEAR 2012-2014)
U12 RACE TEAM (AGE 10-11; BIRTH YEAR 2010-2011)
U14 RACE TEAM (AGE 12-13; BIRTH YEAR 2008-2009)
U16 RACE TEAM (AGE 14-15; BIRTH YEAR 2006-2007)
U19 RACE TEAM (AGE 16-18; BIRTH YEAR 2003-2005)
POST GRADUATE PROGRAM
This program is for athletes who have graduated from high school and are pursuing a spot on a Division 1 collegiate team or a national team. Athletes will primarily compete on the FIS/FISU and NorAm circuits. Please note that even if you are still working towards a high school diploma, if you train with the post-graduate athletes you will be considered part of this group. Reach out to Torey Greenwood, FIS Men's Head Coach, for more information and to see if this program is a good fit for you tgreenwood@teamavsc.org.
•Program Fee: $16,335.
​
ALPINE DEVELOPMENT PROGRAMS
Our development programs are designed for athletes who are focused on progressing in their sport, getting outside, and having fun. They are enthusiastic skiers who want to develop ski racing and all-mountain skills while enjoying the camaraderie of a team. While they're passionate skiers, they want to enjoy summers and holiday breaks free of training (dryland, Holiday Camp and Spring Break Camp are not included in program fees for Development programs). While they may be interested in competing at a local level, they're not looking to travel far afield or pursue high-level competition. Looking for a program with a higher level of commitment? Check out our race programs on the previous page.
PRE-DEVELOPMENT TEAM (AGE 7-8; BIRTH YEAR 2013-2014)
U10 DEVELOPMENT TEAM (AGE 7-9; BIRTH YEAR 2012-2014)
U12 DEVELOPMENT TEAM (AGE 10-11; BIRTH YEAR 2010-2011)
U14 + U16 DEVELOPMENT TEAM (AGE 12-15; BIRTH YEAR 2006-2009)