STAPLETON TRAINING CENTER - ASPEN HIGHLANDS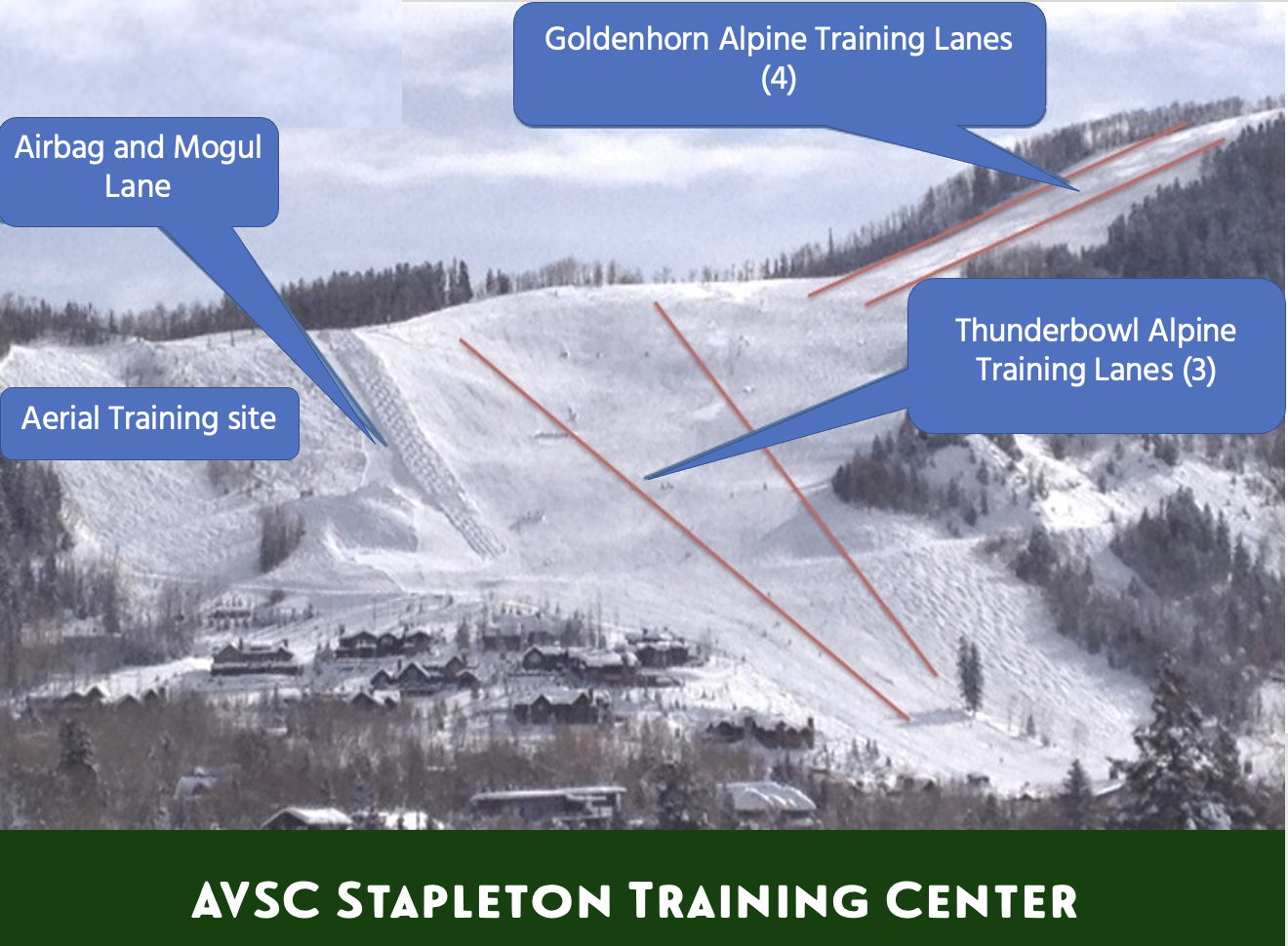 VENUES
:
Alpine training lanes are on the Goldenhorn/Thunderbowl race arena at the base of Aspen Highlands with access via the Thunderbowl lift.
Early season training is available on 400m vertical of varied terrain including FIS homologated courses for Slalom, Giant Slalom, SG and DH.
Snow will be prepared to the hardest "race ready" surface possible.
The training arena is lined with a single layer of B-Net and multiple layers where requested and installed by coaches.
Freestyle/Freeride mogul and air bag venues are also at Aspen Highlands adjacent to the Alpine venue.
Customized programs (gate rental, course setting, timing) are available for additional fees.
TRAINING LANES LAYOUT
:
Goldenhorn (upper third of the venue) will have two to five lanes available for training. They can accommodate a 25 gate GS or 45 gate SL (150m vertical).
Thunderbowl (lower two thirds of the venue) will have two to six lanes available for rent. They can accommodate a 40 gate GS or 60 gate SL (250m vert).
Goldenhorn/Thunderbowl can be combined for a full length SG lane (400m vertical).
A top to bottom access lane will be preserved at all times.
LANE TRAINING TIME SLOTS:
Two - three hour training slots will be available each day. (with option to do 3 slots a day as neccessary)
9:00 – 12:00 and 12:00 – 3:00.
Coaches will be allowed to load 15 minutes prior to training slot.
All teams must make one slip run after training.
TRAINING CENTER DETAILS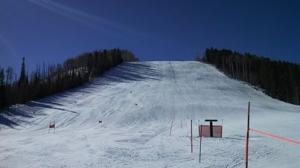 ALPINE
Preseason- $55/athlete daily head tax
Inseason- $69/athlete lift ticket
All coaches are comped (head tax and lift tickets)
Goldenhorn
SL $1,000
GS $1,200
SG/DH $1,500
Thunderbowl
SL $1,000
GS $1,500
SG/DH $1,500
Goldenhorn and Thunderbowl
FULL GS
$2,400
FULL SG/DH $2,880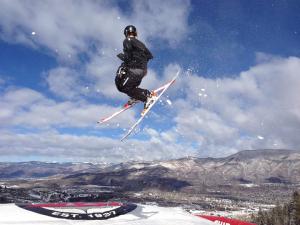 FREESTYLE/FREERIDE
Preseason- $75/athlete daily head tax
Inseason- $55/athlete lift ticket
All coaches are comped (head tax and lift tickets)
| | |
| --- | --- |
| Exclusive Mogul Lane | Call for Pricing and Availability |
| Exclusive Airbag Session | Call for Pricing and Availability |
| Shared Session (Mogul or Airbag) | All day access included with head tax / lift ticket for no additional fee |
A limit of 20 athletes will be allowed on any one lane at one time.
Lift tickets are not valid on any other Aspen Ski Co lifts or mountains.
Gold Cards, Gold Medallions, Season's Passes, Colorado Cards or any other complementary or bulk lift tickets are not valid for early season training.
Guest Training with AVSC programs will be considered upon request.
DEPOSIT, CANCELLATIONS AND REFUNDS:
A 50% deposit must accompany all training requests. Cancellations will be accepted up to 30 days in advance for a full refund.
In the event early season training is not available due to lack of snow, visiting teams will receive a full refund.
ORGANIZATION
:
Training lanes will be tentatively assigned based on team requests.
Daily meetings will be held ½ hour following the final training session of the day at AVSC to coordinate training for the following day.
Team Captains are responsible for insuring a safe and productive training environment on the hill for all teams. SAFETY FIRST.
"Start Stop" must be placed on all adjacent starts when slipping of courses is to take place.
Technicians with equipment may not descend the course while training is in process.
ADDITIONAL INFORMATION
:
Liability Releases: It is the responsibility of the Team Leader to insure that all adult participants; athletes, coaches, servicemen, press, medical, etc. execute AVSC'S releases. All minors must have releases signed by parents or LEGAL guardians. Executed releases must be returned by Team Leader prior to access to the training venue.
2016 Releases will be available on-line in October.
Insurance: Teams or individuals must provide certificates of liability insurance listing Aspen Skiing Company and the Aspen Valley Ski and Snowboard Club as additionally insured.
Every effort will be made to provide a quality training experience to all guest teams.
Training priority following AVSC programs will be as follows:

Invited National Teams
Invited Collegiate Teams
Other invited Teams
By level of athletes
By length of training stay
By other factors to provide the best quality and safest possible environment