ASK Registration Opens Saturday, 10/17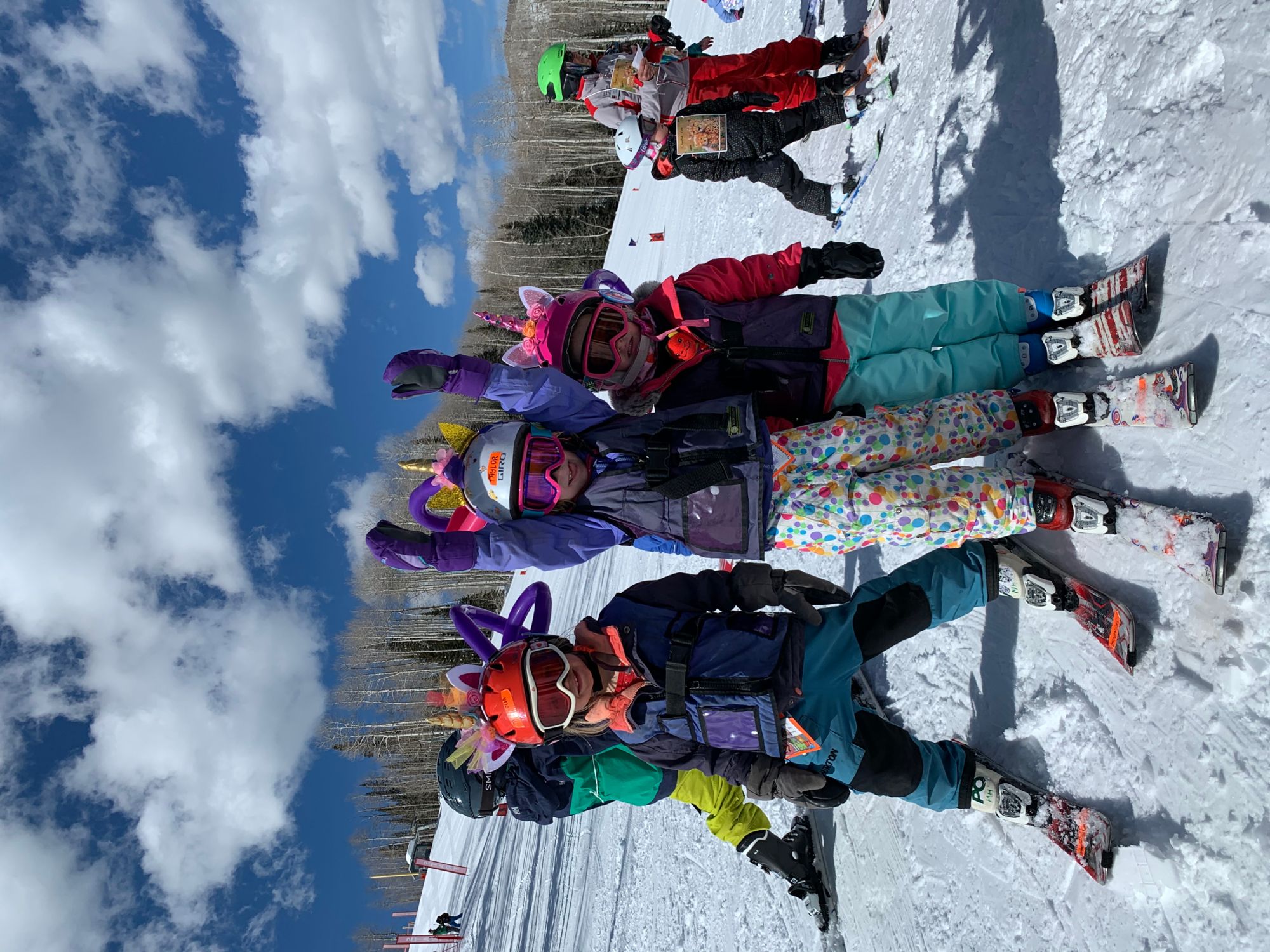 We are so excited to open Aspen Supports Kids registration on Saturday, October 17th at 9am!
View Aspen Supports Kids
programs
and read the Aspen Supports Kids
information page
prior to regsitering!
Families are encouraged to register online at www.teamavsc.org (click "register now!" on the homepage).
We are also offering two in-person registration opportunities Saturday, October 17th:
Glenwood Meadows Mall | Between Ulta Beauty and Sotheby's Realty | 9am - 12pm
Crown Mountain Park, El Jebel | Pavilion next to the Playground Quick read more or view full article

| 9am - 12pm
Please wear a mask and observe social distancing if you are joining us in person!

As always, please reach out with any questions! Contact Aspen Supports Kids Director Meredith Elwell: melwell@teamavsc.org / 970.205.5161.
Read Less
AVSC x Strafe TEAM jackets!
We are excited to roll out our first TEAM jacket with Strafe, our "neighbors" at Aspen Highlands and a brand that has been extensively tested and loved by many locals, including AVSC athletes!
Jackets are now available for enrolled TEAM athletes to order through CampMinder. We expect to have them at the AVSC Clubhouse between mid-October and mid-November; Quick read more or view full article we hope on the earlier end of that timeframe! We will let you know as soon as they arrive and are ready for pickup.
Jackets will be available in youth sizes ($215 + tax) and adult sizes ($260 + tax). The jackets are designed to be worn for multiple years due to their durability and some special features including a lengthening sleeve feature (the sleeve will extend by 2" once specific threading is trimmed and removed). See below for images of the custom design as well as more of the technical details.
Jackets are available now on CampMinder to order (look for TEAM - Uniforms), we will be in touch as soon as we know when they will arrive and be ready for pick up!
If you have any questions, please reach out to Stephanie Braudis (sbraudis@teamavsc.org).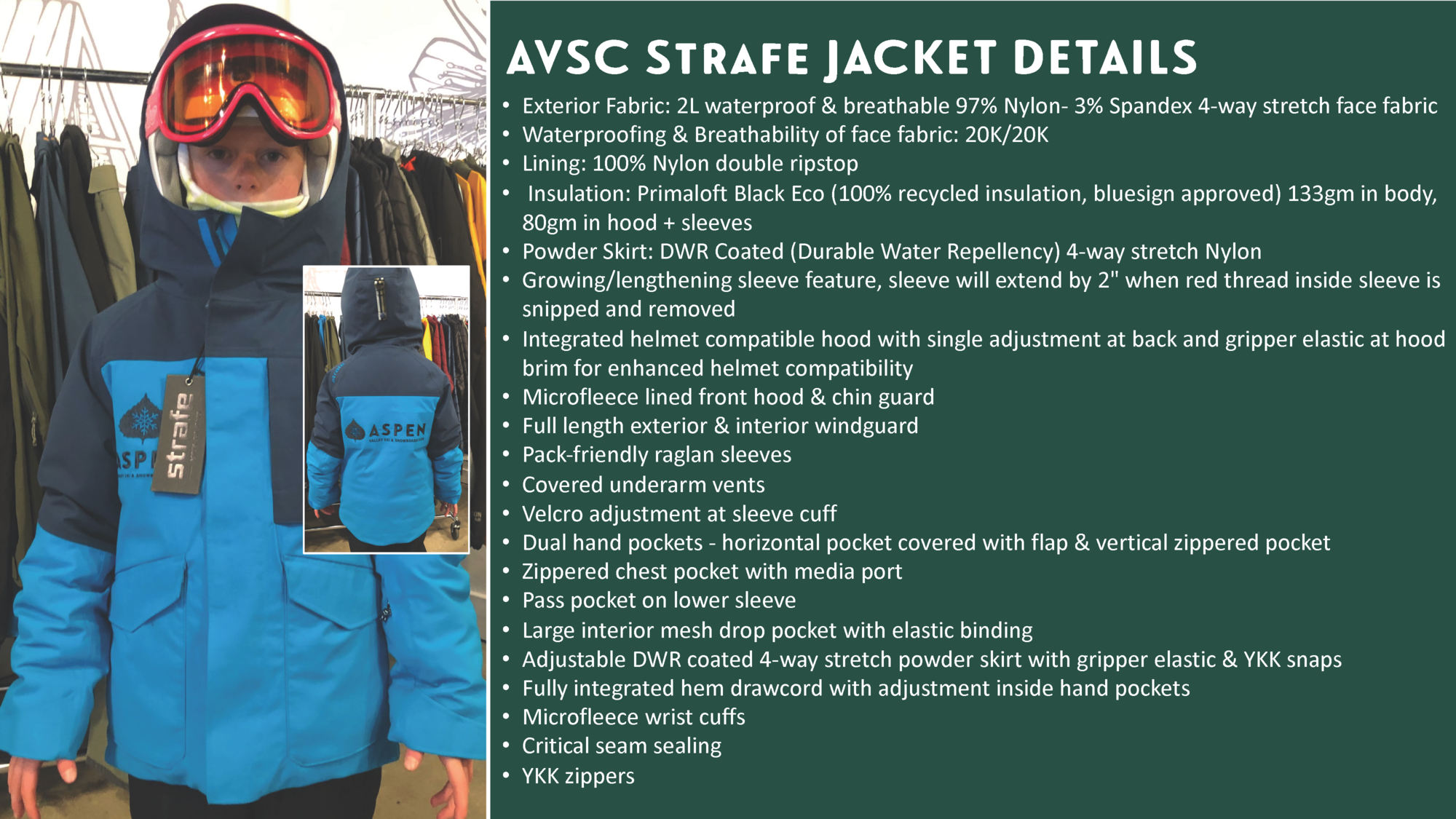 Read Less
Clubhouse Chronicles: Strongest Together, Even With Individual Goals
This article was originally published in the Aspen Times as part of our column, Clubhouse Chronicles.

The Aspen Valley Ski & Snowboard Club's Nordic team was in California for our nationals competition when COVID-19 was first recognized as a major issue that required immediate action in the United States. The event was canceled and we started the journey home.
And home we stayed. For the next few months, we worked through a mix of emotions. We shared gratitude for our health, incredible surroundings and the ability to get outside and exercise. We shared uncertainty regarding what the next Quick read more or view full article few days, weeks and months looked like.
We also shared a continual desire to keep going, keep pushing, keep challenging ourselves. We set goals for the summer and for our newfound downtime. Many were big goals, fodder for motivation that would certainly test our physical and mental boundaries far beyond the average training day.
I wanted to take a moment to celebrate some of the incredible feats of a few AVSC national competition Nordic athletes. Furthermore, I want to applaud them for leveraging their goals for good through AVSC Strongest Together, an online fundraising campaign through which they can build a page, share their story and ask their community to support both their efforts and those of their peers through the AVSC Scholarship Fund. For those of you who don't know much about AVSC's scholarship program, last year the club gave more than $1.8 million in scholarships and subsidies. Now more than ever, it is a critical component to keeping our programs accessible to all local youth.
Here's a look at what the athletes have been up to:
Corbin Carpenter completed the Everest Challenge (climbing 29,029 vertical feet) by riding his mountain bike for 17 hours, 34 minutes for a total of 197.5 miles and 30,720 feet of vertical gain. He rode loops from Carbondale up toward Spring Gulch, one of our winter training sites. He started at 6 a.m. and rode until 2:30 the next morning. He battled on-and-off rainstorms and a miscalculation led him to complete some extra mileage and vertical feet! Corbin has raised $3,771 so far for himself and his teammates!
Elsie Weiss roller skied from Aspen to Glenwood Springs, adding on a few miles along the way so that she could reach 90k. She was aiming to re-create the Swedish Vasaloppet, an annual 90k classic ski race, believed to be the oldest cross-country race in the world! Elsie started at 7 a.m. and ended at 5 p.m., skiing all day with two friends and her dad, AVSC coach Austin Weiss. Elsie also went above and beyond her goal, logging 97k (60 miles)! So far, Elsie has raised $1,179 for herself and her peers.
Anders Weiss rode a "double century" ride, starting in Aspen and riding up and over Independence Pass to Leadville, on to Minturn, then Glenwood Springs, and through the Roaring Fork Valley home to Aspen. Anders completed the 200-mile ride on Sept. 6 over the course of 15.5 hours! So far, Anders has raised $1,837!
I would be remiss to not mention that this is not all encompassing of the physical challenges the athletes have endured, nor is it a comprehensive look at the team's fundraising efforts. A big shoutout to Eva McDonough, who had her sights set on a trail marathon this summer, but with so many races canceled she ended up designing her own! Eva clocked 29 miles, running trails from Lenado to Basalt with coach Nika Meyers! Furthermore, congrats to Taiga Moore, who has raised more than $4,000 on his AVSC Strongest Together fundraising page!
Kudos to all on the amazing work that's happening beyond these examples as well. It has been fun to see athletes get creative and continue to challenge themselves! If you'd like to support any of our AVSC athletes in their fundraising efforts, please check out https://secure.qgiv.com/event/avscstrongesttogether/. Individuals can donate to a particular athlete's page or to the overall campaign. AVSC could not provide the opportunities that we do to as many children without the support of our community, so thanks for helping us make it happen.
I am excited to see our athletes continue to pursue and achieve their goals as we head toward winter!
Read Less
AVSC Strongest Together - Fundraising Opportunity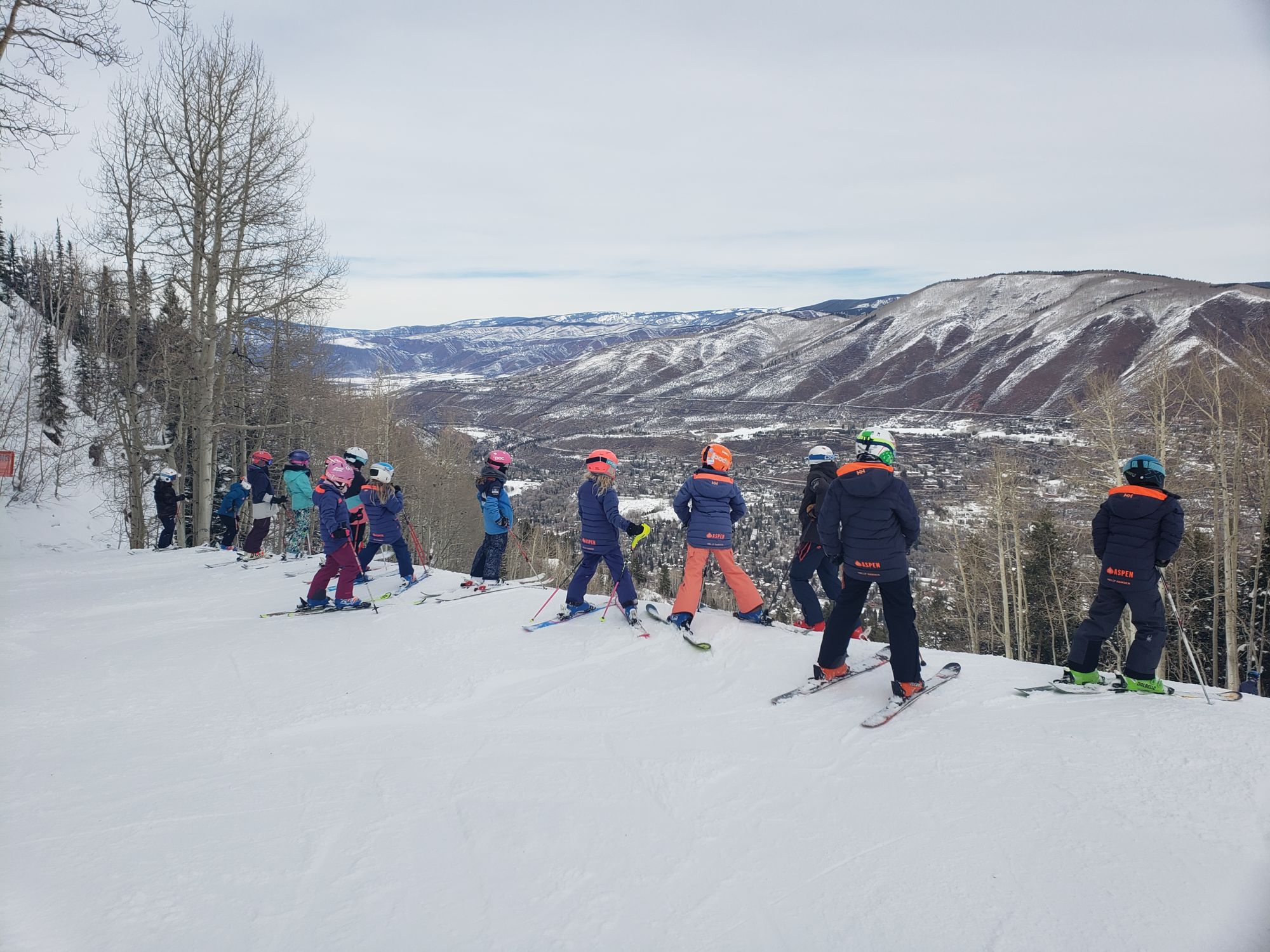 Help us get (and keep) local kids on the mountain!
Aspen Valley Ski & Snowboard Club's mission is to provide all youth in the greater Roaring Fork Valley the opportunity to excel as athletes and as people through winter sports. Last year, we awarded $1.8M in scholarships and subsidies to give local children access to the mountains, and with that, access to challenge, fun, meaningful relationships, and more.
This year, we have created a new fundraising opportunity for AVSC Quick read more or view full article

community members
. In the past, athletes have had the opportunity to fundraise for AVSC and their own athletic expenses through community programs such as the Ducky Derby. We are excited to provide a new avenue for them to do so, as well as expand the opportunity to any friends of AVSC that would like to participate.
So, how does it work? Athletes who want to participate will create personalized fundraising pages. Fifty percent of the funds they raise will go directly to their program fee (up to the cost of the program fee), the remaining 50% will go to the AVSC Scholarship Fund. Friends of AVSC can also create personalized fundraising pages in which 100% of proceeds will go to the AVSC Scholarship Fund! Athletes and Friends of AVSC will be able to fundraise until November 1st. If you'd like to donate, you can donate either to an individual athlete page or to the general scholarship fund.
As always, our goal is to ensure that no child is unable to participate in AVSC programs due to financial constraints. Help us make it happen by
starting a fundraising page or donating to one
!
Set up a Fundraising Page
Click 'Start your Fundraising Page Here' on the AVSC Strongest Together
website
. Once you complete registration, you will be automatically logged in to your dashboard, where you can start your 'Welcome Quest' and set up your fundraising page! Make sure to add a photo, share a bit about your personal experience with AVSC and your sport, and share your fundraising page early, often, and widely! You can choose from email templates, share to social media, and more! If you have any questions, reach out to
Elese Denis
or check out the fine print
here
!
Donate to a Fundraising Page
Thank you for considering a gift to
AVSC Strongest Together
! You will have the option to donate to an individual athlete's page or the general AVSC Scholarship Fund. Our data shows that if we lose an athlete for a season, we lose them for life. We want every child that wants to participate to have the chance to start or continue their athletic career with AVSC. The positive impacts of sports regarding kids' mental, socio-emotional, and physical health is well documented. Your gift will have a lasting impact on both their lives and our community!
If you have any questions, please reach out to Elese Denis (
edenis@teamavsc.org
). Good luck and thank you for supporting AVSC!
Read Less
Clubhouse Chronicles: Wrapping Up a Successful Summer at AVSC
This article was originally published in the Aspen Times as part of our column, Clubhouse Chronicles.

There's nothing quite like the start of the school year that causes one to pause and reflect on summer's end.
When I think back on the past couple of months, this summer was a bit of everything. Active but sedentary. Challenging but fun. Exhausting but restful. Innovative but simple. Everything we'd planned, and nothing like we'd planned it.
At Aspen Valley Ski & Snowboard Club, we went into the summer with an open mind and a hopeful spirit. We formed an internal COVID-19 Quick read more or view full article committee to keep our organization up to speed and help implement safe programming within local and state guidelines. Eventually, we kicked off programs in early June. We understood that things could change at any moment, but we did our best to focus on working hard and having fun while keeping each other safe in the meantime!
Looking back, we couldn't have asked for much more. We started strength and conditioning over Zoom, and eventually moved to in-person workouts at the clubhouse once we had proper protocols in place.
Some of our first days back together in person were on skis, and the energy was incredible. Athletes racked up 39 days of skiing and snowboarding between camps at Buttermilk Glacier, Copper Mountain and Mount Hood. Our athletes ran slalom and giant slalom courses, hit jumps, slid rails and simply got to enjoy the pleasure of sliding on snow. First here in our backyard thanks to Aspen Skiing Co. and, eventually, on the road once we were able to safely design a camp that included a higher level of logistics.
Once we were able to safely open the trampolines, perhaps our most complicated form of shared equipment, our freestyle coaches conducted 190 20-minute trampoline sessions. Normally, a coach would have a small group of athletes taking turns on the trampoline as they work on their skills. This summer we shifted to focused one-on-one sessions in order to ensure athlete safety, allow for sanitization and minimize contact.
We had a record number of freestyle athletes travel to Utah for a water ramp camp at the Utah Olympic Park where they continued their progression from the trampoline, launching themselves off the ramps and into a pool, practicing tricks that they'll eventually bring to snow. This year, athletes traveled with their families, many of whom might not get to see this special stage in the progression otherwise.
Finally, we did a whole lot of exploring on our local roads and trails! You likely saw our groups out trail running, roller skiing, biking and more. Our mountain bikers enjoyed everything from the Snowmass Bike Park to Crown Mountain Park to Prince Creek. We were excited to see that 48 of our mountain bikers were new to AVSC programs; we hope to continue to welcome many new faces this winter!
We are incredibly grateful to everyone — our staff, athletes and families, community partners, local leaders and more — who worked together to create safe and fun opportunities for our athletes this summer. The fact that we were able to accomplish all that we did this summer while keeping things safe and fun is something we should all be proud of!
Onward to winter! Registration is open for all TEAM (competitive) programs at Aspen Valley Ski & Snowboard Club: check out http://www.teamavsc.org to learn more. Early pricing ends on Aug. 31, so reach out soon if you have an athlete who might be interested!
Registration for Aspen Supports Kids, our recreational program, will open later in the fall.
Read Less