Bill Koch Begins Dec 2nd/Great Holiday Camps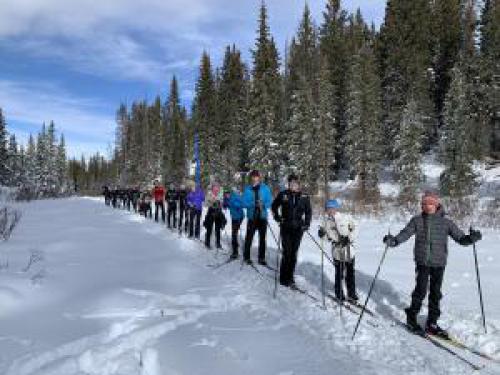 Grand Mesa was a success and the snow gods blessed us with graet skiing conditions both on the Mesa and here at home! If you havent skiied the golf course, get out and enjoy the fresh groomed trails! Also, our Canada Camp for National Comp is in full swing, with a week+ of skiing north of the border.
Bill Koch begins on Monday (Aspen) and Tueday (Spring Gulch). We are very excited to be including our BK skiers in our programming and now our whole Nordic community is in full swing! Please see reminders below.
1: For those that need to rent gear for the season. Please call or visit the Aspen Nordic Center. We team up with the Ute Mountaineer for rentals and they run the Nordic Center. Please schedule your gear and pickup directly with them. Note: One Day skiers need only classic skis and our
Quick read more or view full article
Two Day skiers need both Skate and Classic skis.

2. We have fantastic programming rolling out this season! Your skier will be sent home with a poster and a parent booklet. These resources are for your skiers to track their progress throughout the season and beyond and the parent book is written so that you all are able to follow along and learn more about what we do on snow! More will be explained at the parent meetings.

3. WINTER CLOTHING: Please have your skiers come prepared. Hats, Gloves, Jackets, Pants, socks, water and sunglasses. When the sun comes out, its warm and wonderful, but when the sun goes away the temperature drops 15-20 degrees! Lets be prepared!

Thanks so much and we are super excited for next week. Please have your skiers ready to go by the time practice starts so that we are not waiting for everyone.
Read Less
Camps, Travel and Bill Koch Info
We are finally welcoming some snow to the valley just in time to kick off our first trips of the season. We have two trips planned in the coming days with our National Comp athletes headed to Canada and our Devo and High School athletes headed to Grand Mesa. Please remember that in order to travel with the team
parents need to sign the parent agreement
which is found in the Parent Handbook. This is important so please do not forget! All agreements can be sent to grussell@teamavsc.org.
Bill Koch
: If you need gear, please call or visit the Aspen Nordic Center to reserve your gear. If you are unsure what gear you need to be renting please reference our Equipment page or contact Garrett (Aspen BK) at grussell@teamavsc.org or Sara (Spring Gulch) at skuhn@teamavsc.org.
Bill Koch Parent Meetings:
On the first days of Bill Koch, there will
Quick read more or view full article
be parent meeting held to review our programming, meet coaches and learn about our pickup/dropoff policy.
-Aspen: This will be after practice on Monday Dec 2nd (5pm) and Wednesday Dec 4th (4pm)
-Spring Gulch: Parent meetings are at the start of practice at 4pm both Tuesday Dec 3rd and Thursday Dec 5th.

These are busy and exciting weeks ahead. Please do not hesitate in reachign out with questions!

The Nordic Team
Read Less
Ute Seasonal Rentals Pickup Info

Here is complete information from the Ute Mountaineer to pickup your seasonal rentals. All rentals can be picked up according to the info below at the Aspen Nordic Center (Aspen Golf Course).

Pickup times for seasonal rentals are 3-7pm on the following dates:

Seasonal Rentals Reserved by November 5th
U16 Program and older: Tuesday, November 12th
U14 Program and younger: Wednesday, November 13th

Non-Reserved Seasonal Rentals
All Age Groups: Thursday, November 14th

If the reserved kids can't make their night, they can pick up on Thursday as well.



2019/20 Season Has Begun
A big welcome to all of our new and returning skiers and families! This season is starting out with early snow, excited skiers and some great events on the horizon. Today is Day 1 for our Devo skiers up and down the valley and we hope you have a blast on your first day. High School begins on November 18th followed by our Bill Kochers after the Thanksgiving Holiday.
Here are a few things to make sure you are prepared for the start of the season:
First Tracks Signup is Open!
We will be staying at Mesa Lakes Lodge
November 23rd-25th
and all High School, CRMS, Devo and Comp skiers are invited to travel and stay with the team. Pricing estimate for the weekend is $255 - $285 which includes food, travel, lodging and coaching fees. Please signup
HERE
by November 17th or at the Race Sign-Up
Quick read more or view full article
page.

All parents MUST sign the parent handbook which can be found HERE. If you are planning on traveling with the team this season, this must be turned in before your skier can travel. No form, No travel. Send digital copeis to grussell@teamavsc.org or give your coach the signed copy.

Uniforms with Podiumwear: Second order with Podiumwear for our team uniforms is OPEN! Store will close at 11pm Mountain Time on November 20th. Please follow this LINK to access the storefront. Orders will be delivered after Jan 1st.

Photos: If you capture any photos of our skiers that you would not mind being posted on the blog, send them to grussell@teamavsc.org. We would love to feature all the fun we have throughout the season.

Cheers to a great season!!

Nordic Team Read Less