U14 and Under Champs Signup is Live!
It's time to get ready for the…..
U14 and Under Championships February 28th - March 1st at Powderhorn!!
We are inviting all U14/U12/U10 and U8 skiers in our
Devo and Bill Koch programs
as well as U16/U18/U20s (SO EVERYONE IN OUR PROGRAM!!).
We will be leaving on
Friday, February 28th
and will be returning after the events conclude on
Sunday March 1st
. Even though it is the U14 Champs, there are races for all age groups, so all are welcome.
We would like to invite all Devo, National Comp and High School athletes to travel and lodge with the team this trip. We would like to get as many athletes as possible at this fun, end of season event!
** because of age lodging requirements, we require all athletes in Bill Koch to travel and lodge with family or guardian**
SIGNUPS ARE CLOSED
The approximate cost for the 2 nights/3 days is $180 - $230 which includes
Quick read more or view full article
travel, lodging, food, race entries and a t-shirt.

If you are traveling with a parent, we will organize race entries, dinner (if indicated), t-shirt and coaching assistance. Feel free to sign up for one day of racing or both.

We will be attending dinner at the venue on Friday night for $10pp. This is included in the cost of the trip if you are housing/traveling with the team. If you are traveling and staying with family, please indicate on the signup if you would like your skier to join the team for dinner. We are also inviting all skiers to join us for a team dinner/potluck Saturday night. Are there any parents out there who would like to make a dish? Please contact me (Garrett) if you are interested (premade frozen pasta or lasagna would be perfect).

Lastly, Sunday's race is Costume Race! Stay tuned for the Sunday theme and get ready to have fun in this great team event. Read Less
Bonfire Thank You/ Volunteers Needed
I want to reach out and thank you all for participating in, volunteering, supporting and inviting friends to our Bonfire Dinner event this past Saturday night. The weather and snow was perfect and the event was a success!
With the wonderful night behind us we have another event to prepare for. This weekend, Feb 8th, we are hosting a High School and Collegiate race here at the AVSC Clubhouse and trails. We need all hands on deck for this one and we hope you all find a place in our volunteer signups. For those if you with skiers in our Team programs, you will receive parent volunteer hours.
Please follow this
LINK
, scroll through the open positions and signup! Please read the descriptions of each position and time commitments so you are prepared for your roll. Please email me (Garrett: grussell@teamavsc.org ) with any questions.
Thank
Quick read more or view full article
you,

The Nordic Team


Read Less
2020 Nordic Bonfire Progressive Dinner
We want to welcome you all to join us February 1st from 6pm-8pm at the Aspen Nordic Center for our 2020 Bonfire Progressive Dinner on skis. This year will be an exciting even as we are featuring food trucks alongside our local restaurants on the trails. Please take a look at the attached poster for more information including pricing and rentals and when you are ready, click on this
LINK
to purchase tickets.
We look forward to seeing you, your friends and families on this amazing night,
The AVSC Nordic Team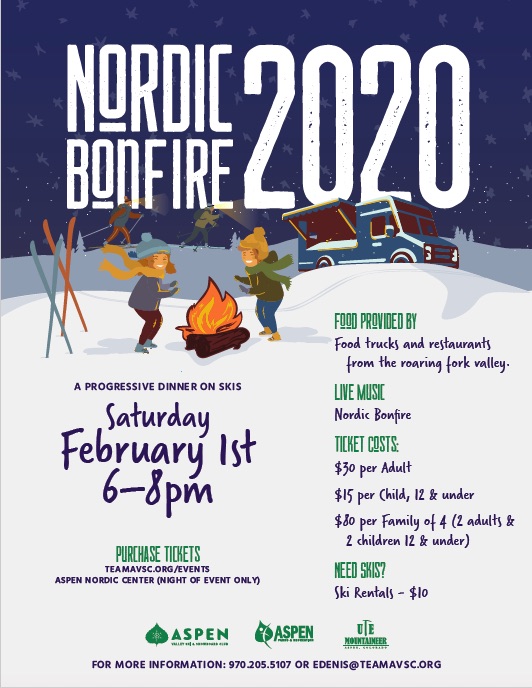 SSWSC JNQ Race Results
Click on the links below for the Steamboat Winter Sports Club JNQ Results
Jan 18th, 2020
INTERVAL FREESTYLE
Jan 19th, 2020
CLASSIC
CRMS CHSAA race at Spring Gulch / Sr. National Results
This Saturday Jan 11th is our first CHSAA race of the season hosted by CRMS. We are excited to invite 13 teams from all over Colorado to our amazing venue in Carbondale. Below are the start times for races and please carpool!
10:00 AM – High School Boys 5km Classic Mass or Wave Start
10:30 AM – High School Girls 5km Classic Mass or Wave Start
11:00 AM – Middle School Boys 3km Classic Mass or Wave Start
11:30 AM – Middle School Girls 3km Classic Mass or Wave Start
12:30 PM – Approximate Time for Awards
Volunteers Needed!
We still need volunteers to help with Parking. There are two shifts: 7:30am-11am and 10:30am-2:30pm. Please sign up using this
LINK.
Senior National Results:
We saw some great results from our skiers including Haley Swarbul and Kate Oldham. Congrats to all of our
Quick read more or view full article
skiers for their hard work and dedication. You Rock!

Click HERE for the Classic Sprint Results and to access the weeks results. Read Less